I love the summer, but not the heat. We defiently do so much more in the summer than any other time of year. Things we LOVE about summer:

1. POOL
When we were looking for a house a pool was NOT a priority and when we found one with it, we figured it was a great bonus. We had no idea how awesome it would be to have a pool. We have a huge yard so right after Steve mows the lawn (on his riding mower) he jumps right into the pool to cool off. Makes mowing more fun. The first summer here we knew the pool was worth it and last year was even better because Holly LOVED the water. I'm hoping she enjoys it just as much this year. I know she loves being in the bath tub and this past weekend she was in a kiddie pool for the first time and had a blast! I didn't think she'd jump right in it, but she did! Shoes, socks, shorts and shirt…she didn't care. Luckily I keep some swim diapers in the car so we grabbed one of those and just loaded her up on the sunscreen. She had no problem getting in and out. She had a blast! Here are some pictures of her enjoying the kiddie pool…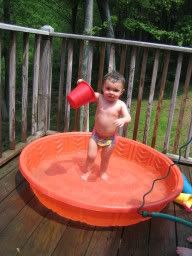 2. BOAT
We got a boat last year..was it last year?? or the year before?? WOW so sad I don't even know. That's because we haven't been on it too much. We just do so much each weekend and then there are rainy weekends. Steve would like to be on the boat every weekend, but it's just not possible. I think this year he's going to take a bunch of Fridays off work so we have more time to go there and for rides. I'm not too comfortable on the boat yet so I'm very nervous about bringing Holly for a ride, but I Know she will LOVE it so I need to be brave and just go. Here's a picture of our boat…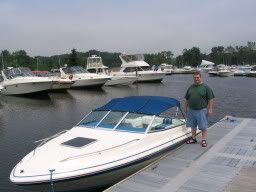 3. GRILLING
The first weekend we moved in the house Steve bought a brand new grill (see earlier post about us being spoiled!). He LOVES to grill. I have no idea how to use it and no plans on finding out. That's his job. We defiently use the grill a lot. We even cook lobster on the grill! We received a HUGE lobster as a house warming gift and we had to use the grill to cook it. It was fantastic! I don't think I have any pictures on the computer of Steve on the grill…let me look.

4. LONG DAYS
I love the longer days..just makes me feel good. We'll enjoy every single one of them even more with Holly.

This summer is going to be lots of fun. I just know it!!