I know we aren't Irish…but still it's a day to celebrate, right? Well actually the only way we are celebrating (again, because we aren't Irish) is Holly is wearing Green today…..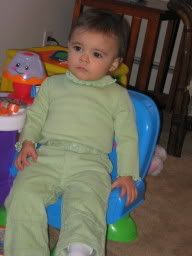 Obviously she isn't looking very festive and happy in this picture, probably because I made her wear green and we aren't Irish. But tough luck, I still get to pick out her cloths! I'm going to keep trying to get a better picture of her today and If I do, I'll post it here later, so check back. She's napping now, well she's supposed to be napping but she's in her cribbing addressing all of Ashaway (she's talking very loud) about something but I'm not sure. She's probably telling eveyone that I made her wear green and we aren't Irish!
But to all of you that are Irish……
Happy St.Patrick's Day!!!
On another note… I found some time yesterday to scrap a few pages. These pages I actually scraplifted from an idea sheet I receive each month with my scrapbook kit from Personal Scrapper (which by the way has the BEST KITS each month at an awesome price). I need to replace the picture on the Easter Sunday page with a picture not so dark, but I haven't had a chance to yet. Enjoy!