Tuesday…Pictures in Review…
Lots of Pictures!!! I seem to take so many pictures of Holly some weeks. This little girl will seriously be able to enjoy her childhood again by looking through pictures. Some of them are taken of everything she does throughout the day.
For instance yesterday. Here she is watching Blues Clues in her onesie, drinking her juice. She tries to ignore the camera, but it's still there, snapping away.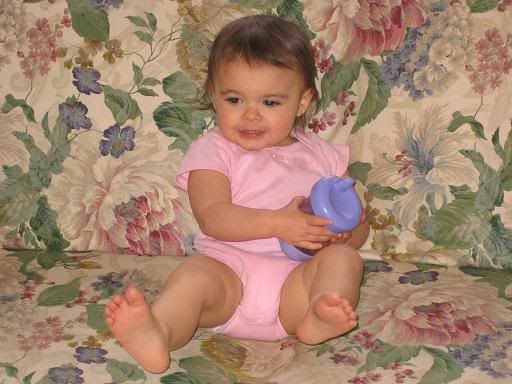 Here she is after her bath, while the barette is still in her hair (wasn't there very long). I think the TV was on again..or she's just trying to ignore the camera again. Her hands are in her mouth all the time again, but doesn't she look cute in her little dress!!
Here she is playing before her nap. She's discovered that she fits in this basket and I find her playing there a lot. So cute! Notice the barrette is almost out of her hair. I think she discovered it and tried to take it out already.
Here she is in the car on the way to Cranston. Looking cute! Notice the barette is out of the hair, but the hair is still sticking up from it.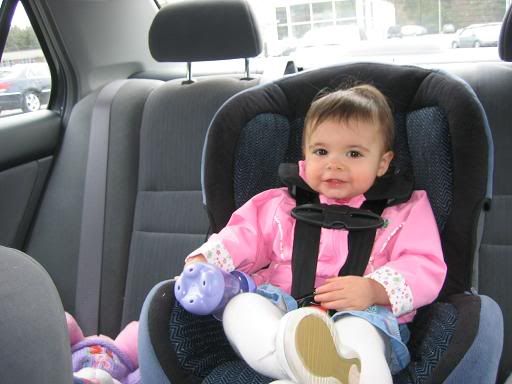 OK, then we went to Target and while there got her a new cup with a straw!! And guess who's on the cup…. DORA!!! She was so excited. She carried it all through the store saying "Dora!!". After we were done shopping I went and washed it and put her juice in it. She sat in the carriage just sipping out of the cup..loving it. She even gave Dora some kisses (but I didn't get that picture, sorry!).
We had a nice day. She was tired and slept all the way home. I didn't mind, because that ment I got to listen to my music, not her's.