This past Saturday was my oldest nephew Jonathan's Birthday Party. He turned 8 today. I can't believe it!!!! Happy Birthday Jonathan!!!! At his party, the kids made Chocolate Pizza's. What a cute idea and boy did they all LOVE IT!! Even Holly, not even being 2, enjoyed it. She didn't know right away what to do, but she caught on really fast. She mostly enjoyed tasting all the different candies and the frosting. I got lots of cute pictures of her and decided to do a layout already! Digital scrapbooking is helping me to stay up to date and I love it. Here's the layout…
Another layout I've been working on this past week is was from my last birthday. Steve got some great pictures of me and holly together and I really wanted to do something with them. This is a template again from Gina Miller Designs and I think it worked perfectly with the pictures. I'm not sure how well the journaling will show up when i print this so I may need to rework it a bit. We'll see.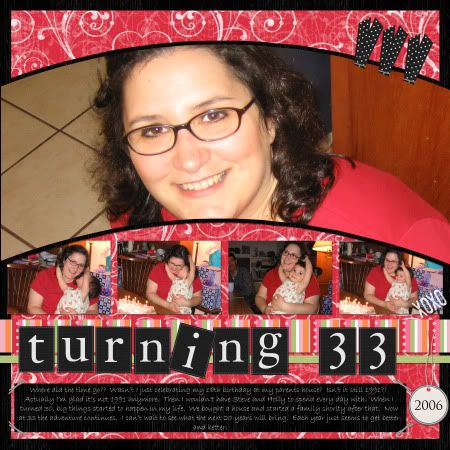 Journaling reads:
Where did the time go?? Wasn't I just celebrating my 18th birthday at my parents house? Isn't it still 1991?? Actually I'm glad it's not 1991 anymore. Then i wouldn't have Steve and Holly to spend everyday with. When I turned 30, big things started to happen in my life. We bought a house and started a family shortly after that. Now at 33 the adventure continues. I can't wait to see what the next 20 years will bring. Each year just seems to get better and better.