Father / Daughter Dance Picture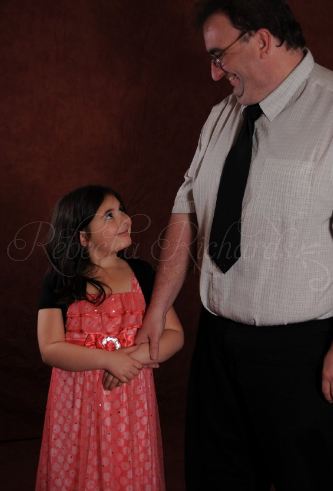 Photo credit Rebecka Richards
I love this picture.
Holly absolutely loves her dad, which is probably because she is JUST LIKE HIM.  Seriously, they are like two peas in a pod.  I'm not sure two people could be more a like.
I think you get the picture.
So when I look at this picture, I don't just see a little girl who is happy to be with her dad.  I see a little girl who is looking at her dad with so much love and admiration — I know when she looks at him, her hearts melts.  And his does too.
Whenever Steve travels, Holly cries when she has to say goodbye to him.  And she really misses him the entire time he's gone.  Allison could care less.  LOL  When I travel Holly could really care less and Allison will probably be crying soon for my absence.
But that's OK, I don't mind because I love seeing the love between them.  It's cute.  That being said, lets fast forward about 10 years when Holly is dating………. I somehow don't think dad will be her favorite person when he complains about every guy she likes and wants to date – because I know he will NOT like them, no matter how good they are.
But for now I'll just enjoy the little girl looking at her daddy with so much love, and enjoy her at 7.