Budgeting Workshop at The JonnyCake Center in Westerly, RI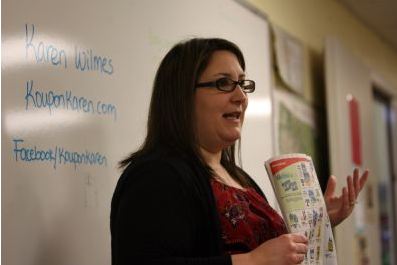 I guess I was always bound to teach in one way shape or form.   This picture was taken at the Jonnycake Center in Westerly Rhode Island.  It's the local food bank and when they saw me in the Westerly Sun right before the holidays, they contacted me and asked me if I'd consider donating my time to teach a budgeting workshop for their clients.  I immediately knew I wanted to do it.
When we met to discuss what I'd do, we decided to keep the coupons out of it and just focus on stretching their dollars at the food store.  I had never done a workshop like this but I was super excited to give it a whirl.
I sat down and made my plan – the point of this workshop would be to show them how to take a small weekly food budget and plan their shopping trip around what was on sale along with making a menu at the same time.
It went over very well and was the best workshop I ever taught – and I did it for FREE – go figure!   The Westerly Sun was there taking pictures and I grab these off their website since I didn't have anyone take pictures.
Amazing the things I'm doing now that I wouldn't of ever dreamed of doing years ago – and I love every minute of it!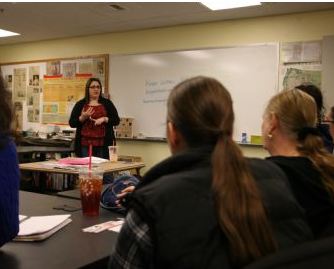 Photo Source The Westerly Sun