I'm sitting on the plane on my way home from Nashville, TN thinking to myself how did I get here??  I am returning home from Blissdom, a blogging conference that I've been wanting to go to for a few years,  and finally did.  I had a great time and connected with awesome people and brands.
Blogging has become the best thing that ever happened to me, career wise and I'm so grateful for it.  It's brought me so many great opportunities, emotionally and physically.  I started blogging in 2006 with this blog for my family, but then in 2008 I decided to start a second blog about saving money.  I had no idea that 3 years later it would explode the way it did and turn into a full time job and income that I love!  And now I'm in my fourth year blogging and it's just amazing.
Since 2008 I have traveled to 6 different places because of my blog…
Denver Colorado to visit the ShopAtHome.com office
Minnesota to meet with General Mills
NYC to attend BlogHer 2010
Miami Beach to attend SheCon 2011
San Diego to attend BlogHer 2011
Nashville to attend Blissdom 2012
And I have 3 more trips planned for this year – to Orlando for She Con, to NYC for BlogHer 2012 and to Seattle to BlogHer Food 2012.
Each trip I took made me more and more confident about what I am doing and  made me want to continue to do even more.   The experiences have been amazing.  When I attended SheCon in Miami beach I was able to try authentic Cuban food, see Lindsay Lohan and have appetizers that cost more than any meal I've ever had at a fancy restaurant that I would have never gone to on my own.   But the best part of that trip was connecting with a Brand that I now have a contract with,  a salary, and a travel account to attend the functions I listed above.    Working with them wasn't anything I would of ever imagined doing!
When I attended BlogHer San Diego I won a beauty makeover, which didn't turn out the way I wanted but it was really fun.  They did my hair and makeup and gave me some new clothes, then I got to walk the cat run as I was introduced.  It was pretty cool!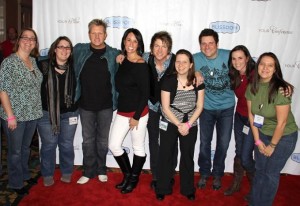 The conference I just attended in Nashville turned out  to have a few more great experiences.  Besides being admired by fellow bloggers for my connection with the Brand mentioned above,  I was able to attend a concert by Joe Jonas and Rascal Flatts, then afterwards I was able to take pictures with both of them and I stood right next to them in the picture – that was pretty cool.  Then during our lunch one day, we got a private concert by Chris Mann who is currently on the Voice.  IT was pretty cool!
Besides the cool trips and the wonderful products that my family and I receive for review,  I've been on the news and in the newspaper several times, and I have two more lined up for this week.   Why?  Because one of the best opportunities I received, thanks to my blog – was the opportunity to write a book.  I would have never in a million years thought I'd write a book.  It was the best experience ever and much easier than I thought.  And now that book is out and people are starting to read it and I'm nervous and excited all at once.
It's been a fun year and I'm excited for what it will continue to bring!