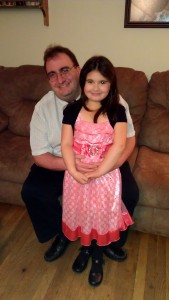 Tonight was Holly's 2nd Father Daughter dance and she has been waiting for this night. Not only is it a night for her and daddy, but it's the last night it will be just her and daddy as Allison will be in Kindergarten next year and will be attending with them. So it was a special night for Holly and Daddy.
It was also a special night for Allison as she got to go on a date with Mommy!  We went to dinner at Chili's which is her favorite place to go to.  And she also got a special new dress to for our night out.
Holly wasn't feeling very well and was at the beginning stages of a cold and right before they left she really didn't look good, but she got over it pretty quickly and had a GREAT time.
She also didn't mind posing for a few photos before hand..
They took some cute pictures at the dance and I don't have them yet to scan in to post here but I really love this one of them………….. so precious!