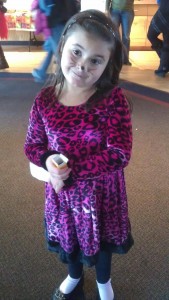 My Cat Girl – This is Holly on Halloween (I know I'm behind!).  She had this dress in her dress up box and really wanted to wear it for Halloween.   Who was I to stop her when it meant I didn't have to pay for another halloween costume!  So she wore it and it looked adorable.
This is her at the Halloween party at the Westerly Yacht Club.  They put  on a really nice party for them every year.  Lots of great costumes and tons of fun for the kids.
Daddy suggested I put some whiskers on Holly and it was a good choice as it made her even cuter!
But then again, she's cute with and without the whiskers!