Well, my layout is in the mail and on it's way to Scrapbook Trends. Of course, being a scrapbooker, I had to take a picture of the box and I had to take a picture of Holly with the box. For all you non-scrapbookers, don't worry I don't take pictures of all my mail before it goes to the post office, I'm not THAT CRAZY!!!!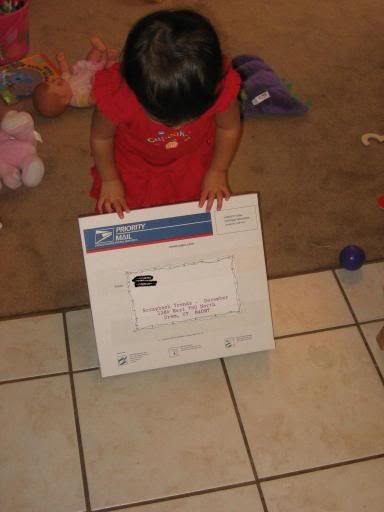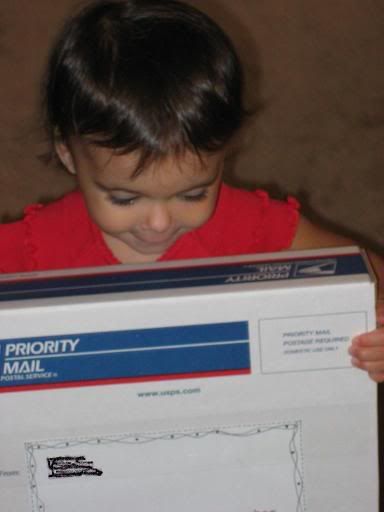 A few pictures of Holly I'd like to share. We have these BEAUTIFUL white flowers in the front of our house and I have NO idea what they are, but they are awesome and HUGE. The come out the middle of August and I wait for them all summer long. I took some pictures of them for my mother in law and Holly just happened to get in one picture ( I couldn't of planned that one if I wanted to, i was very pleased that it just happened). I LOVE this picture and I'm sure you'll be seeing it on a layout soon. You can also tell how BIG the flowers are compared to Holly.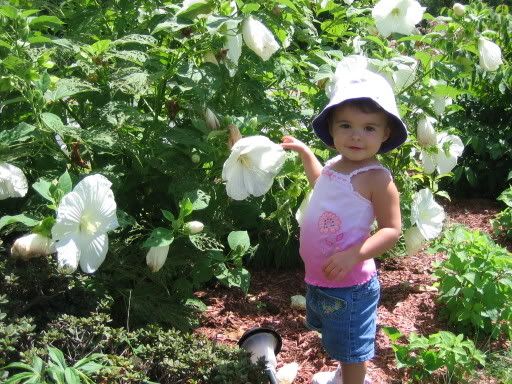 We haven't been very successful getting Holly on the potty lately. All of a sudden she didn't want to sit on it anymore for a few weeks. Out of the blue yesterday we asked her if she wanted to go on the potty and she got all excited. I took off her diaper and she grabbed my Creating Keepsakes magazine and sat down on the potty 'reading'. It was SO CUTE and I got a picture!!!!!